Specialty Business Cards
Elevate your business card with unique materials and finishes.
More unique options
Claim prime real estate on the fridge, filing cabinet or calendar.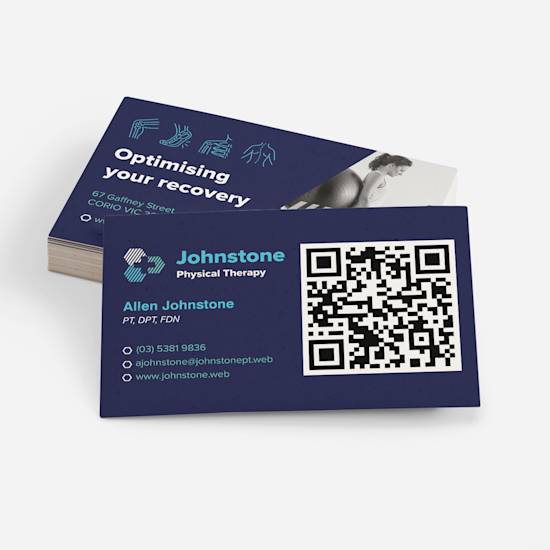 QR Code Business Cards
Build long-lasting relationships with QR business cards. Save time and impress by instantly directing customers to websites, signup forms and more.
Go from standard to standout with eye-catching materials and finishes.
Want to be the business people think of first? Differentiate your card (and your company) with a special selection of papers – all designed to help you get attention and make a memorable impression. Features like embossed gloss improve the look of your overall design and let you highlight your logo, name or other key pieces of information. And with choices like cotton or plastic, you can present something bold, confident and unexpected. Explore our options and create something that you love – and that customers can't miss.
Frequently asked questions
You can combine the corner and shape options with some (but not all) of the other papers. Because of the way we print on some of these materials, there are some limitations on customisation. Choose a card type above to see exactly what options are available with it.
Yes. For an extra fee, you can add a design to the reverse of most of these options. The only exceptions are our magnetic business cards and business card stickers.
Traditionally, business cards have a horizontal layout, but if you're going for a different, modern feel, we have a lot of templates for vertical business cards too. As far as specific design layouts are concerned, we have thousands you can quickly sort and browse by industry, shape, style and more.
---