Notepads
Add a signature element to every message, reminder or to-do list. Explore fully customisable design templates and an easy design upload.
See Details

100% satisfaction guaranteed


Make every message noteworthy.
107 x 139 mm size
50 sheets per pad
Magnetic backing available
Vivid, full-colour printing
Note: The quantity options shown above refer to the printed sheets of paper. Each of our custom notepads include 50 sheets of paper. When selecting your quantity, please note that 50 = 1 notepad, 100 – 2 notepads, etc.
Looking for an easy and unexpected way to build your personal or professional brand? Consider custom notepads featuring your name and logo. They can convey confidence and professionalism during meetings with clients – or even just add a fun touch to your day to day. And with 50 pages of acid-free paper, you'll have plenty of space to jot things down. You can even choose between a cardboard reserve backing (good for notepads that will be used on desks or flat surfaces) or a magnetic backing (great to add to a fridge or filing cabinet).
Ready to create? Start by browsing our assortment of fully customisable designs. Once you've found a favourite, make it yours by adding custom touches and choosing the options that work best for you. After that, we'll take care of the rest – professionally printing and shipping your order. Your custom creation will arrive looking crisp, polished and ready for its first note.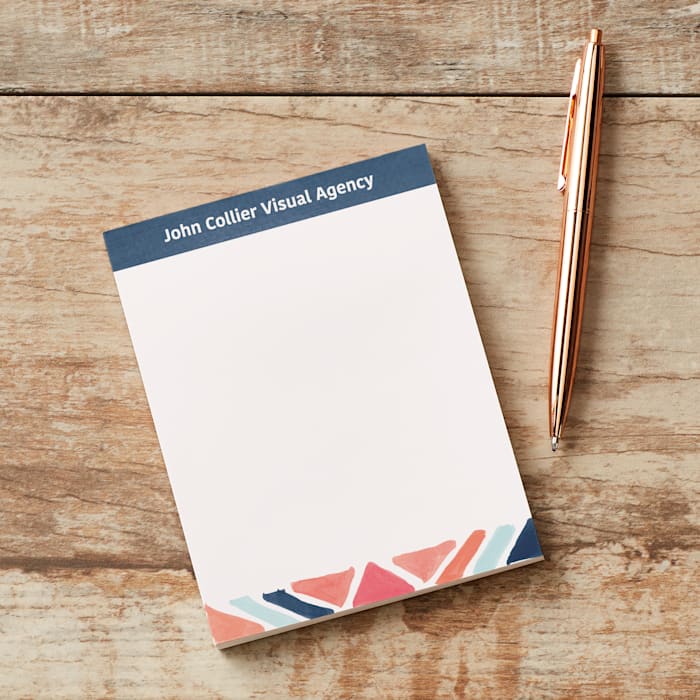 Frequently Asked Questions
Each notepad comes with 50 sheets of paper. The quantity options at the top of this page refer to the number of printed sheets of paper, not the number of custom notepads. So when you select a quantity of 50, you'll be ordering a single notepad. 100 pages is 2 notepads, 150 pages is 3 notepads, and so on.
Yes. Our fully-customisable design templates include lined and unlined options.
Your design will be printed onto acid-free white paper, but don't let that limit your design – or your creativity! Our full-colour printing lets you add any colours you'd like to your notepad. The colours will be printed on the front of each piece of paper, while the back will remain white.
To pick the right reverse side for your needs, consider where and how you want to use your notepads. If you intend to use the pad on the go, or while working at a desk, cardboard backing may be right for you. But if you want an easy display option for your fridge or filing cabinets, our magnetic backing could be just what you need.
Yes. After you've made your initial choice –a cardboard or magnetic notepad backing – you'll have an opportunity to upload a finished design.
When it comes to colour choice, we recommend you think about how you'll be using your notepads – especially what you'll use to write on them. A notepad with predominantly dark colours may not be a good choice if you plan to write with a black pen, but a great option if you intend to use a silver marker. And if you're creating custom notepads for business use, don't hesitate to use your business colours and add a logo – those details often get noticed by customers or employees.
Product Specs & Templates
Ratings Distribution
5 Stars

9

4 Stars

2

3 Stars

4

2 Stars

3

1 Star

3
Good quality product. The order turned around really fast. Thank you!
Can't believe how easy it was to make a custom design. Quality of finished product beautiful!
I needed a notepad with my business advertised on it and I am happy with this.
Love these notepads, I put a watermark of my logo on the background and it's perfect! I can still write over it, perfectly legible. They all stay together well, come off cleanly and are a very convienient size!
Really good note pads, even better service.
I bought notepads as a marketing freebie to include in information packs. When they arrived, on a lot of the pads some of the colours were slightly fuzzy or mis-aligned, like the paper had shifted slightly between colours. I contacted Vistaprint, they fixed it and resent it by priority post, absolutely perfect. I can't fault the finished product - it's great, crisp clean text, bright colours. I REALLY can't fault the service! Plus, each note pad is thick enough that I can split it in half and give to twice the number of people... What can I say - excellent service. They didn't reach their expected quality and they fixed it, really quick, no questions asked.
Our professional designers can help create the look you want.

Printed Product Design