Estimated reading time: 8 minutes
Christmas is right around the corner. And the festive season tends to be an extremely busy time for just about everyone – including small business owners. So, let's be honest. On a scale of one to ten, how ready and organised are you for the upcoming festive rush?
Whether you're feeling like a confident nine, an apprehensive five or a panicked two, now is the time to start getting ready for Christmas. That could mean researching Christmas marketing trends in your industry, fleshing out your Christmas marketing strategy or locking in the festive deals you're going to share with your customers.
And while preparing for Christmas is always essential, it's particularly important to get ahead of your festive marketing plan in 2022, when continued COVID-19-related issues could present certain challenges for small businesses.
But even as we navigate these challenges, people will still be celebrating and exchanging gifts – and getting your festive marketing ideas and strategy in place will help you get the most out of this period of increased consumer spending.
Not sure where to start? Not to worry, we've got you covered. We've created a month-by-month Christmas checklist, starting in October, full of festive marketing tips. You'll learn how to get your strategy in place, and we'll make sure you're prepared to tackle the upcoming Christmas rush, make meaningful connections with customers and drive sales. Or check out our Christmas planning guide to see what you should start doing to get ahead.

Christmas marketing tips for October
October might be the month of Halloween and warmer weather – but it's also an opportunity to get a head start on your Christmas marketing. Here are a few October marketing tasks to check off your Christmas to-do list (and set you up for success in the coming months):
● Devise a detailed Christmas plan. Doing a little prep and planning ahead of time will ensure that you're ready for the Christmas period – and allow you to feel more festive (instead of frenzied) when the season hits.
● Create a Christmas budget. You might be tempted to spend more on your business during the festive season, but you don't want to spend more than you can afford. Make a budget, keep it realistic and stick to it.
● Get inspired. Do a little research and see what other businesses do during Christmas to promote their businesses. Spend some time perusing their social media (including Pinterest, Facebook and Instagram) to see if there's anything that might also connect with your customers – then use those ideas as inspiration as you put together your Christmas marketing plan.
● Do some market research. What are your customers looking for this festive season? How will you meet those demands? Now is the time to do your research – so you're prepared to deliver once the festive season is in full swing.
● Prepare your inventory. It may seem like you have a lot of time between now and the peak of the festive season, but the truth is, the Christmas rush will be upon you sooner than you think. Get your peak-season inventory ordered or organised.
● Order your advertising materials. Now is the time to get marketing materials for any sales or Christmas promotions you're planning for the upcoming season. Whether you're in the market for banners, postcards, flyers, posters or foam boards to spread the festive cheer, start stockpiling the supplies you need now to see you through the rest of the season.
● Get what you need for festive packaging. The festive season is all about presents – and how those presents are presented can play a major role in how they're received. Decide how you want to package orders and wrap in-store purchases – and how you're going to infuse your packaging with a solid dose of Christmas cheer. (For example, you might consider including a Christmas-themed single sticker with every order or wrapping your box with customised tape.)
● Plan your Black Friday or Cyber Monday sales. Consumers LOVE sales around this time of year – but if you want your sales to be effective, you need a clear plan. What sales are you running? When does each sale launch? How will you advertise your major sales of the season? Get your plan in place and start drafting promotional emails now; that way, you'll be ready to hit 'send' when the time comes.
Black Friday and Cyber Monday may be two of the biggest sales of the year – but you don't have to wait until the end of November to run deals! If you want to entice new customers, try offering daily deals and subscriber-only flash sales.
Christmas marketing tips for November
November is home to two key sales: Black Friday and Cyber Monday.
Since these two major sales days fall later in the month, you have time to run a few mini promotions in early November to attract proactive customers – and prime them for the more significant shopping extravaganzas. This is also a great time to decorate your shopfront – both digital and in real life!
●     Decorate your shopfront. If you have a brick-and-mortar shop, it's time to deck the halls…or, in this case, deck your shopfront. Outside, decorate with festive window art, banners and decals. Inside, get shoppers in the Christmas spirit by playing your favourite seasonal tunes. If your shop is on the smaller side and you're concerned about capacity (and perhaps your ability to enforce social distancing), think about ways to get people shopping without the crowds – like hosting virtual or limited-capacity events or scheduling personal shopping appointments.
● Deck out your website. Your digital space is just as important as your brick-and-mortar location. So, if you have a website, make sure to decorate your digital shopfront as well – whether that's creating a curated gift shop page, adding a mistletoe-inspired banner to your homepage or changing your colour scheme to incorporate more Christmas-friendly hues.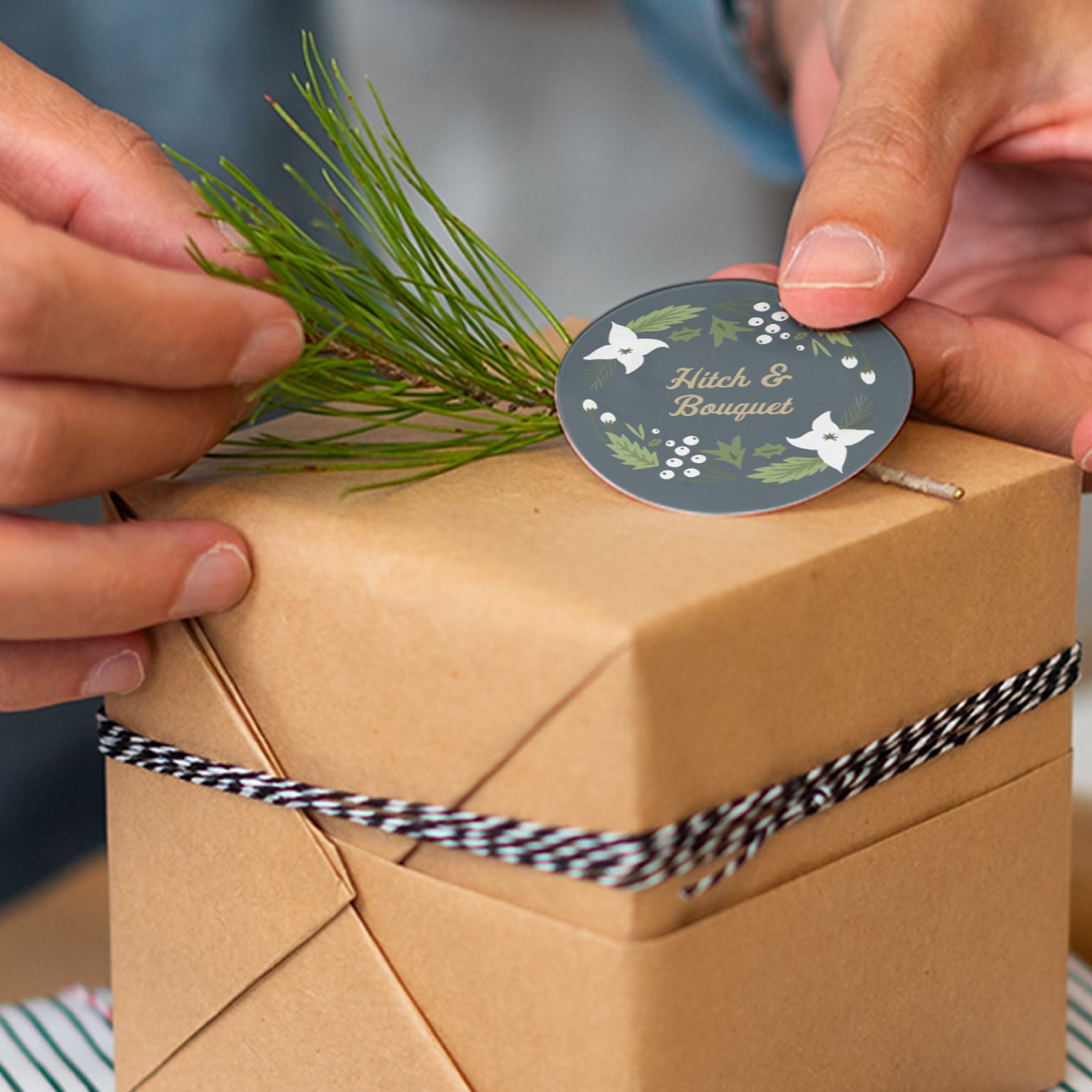 Are you rolling out any special products or promotions for shoppers during the peak Christmas shopping season? Let them know ahead of time with an e-newsletter, postcard or social media post.
● Order thank you cards or gifts with your logo on them. Christmas is the perfect time to say 'thank you' to your customers and employees, whether with a handwritten note or branded merch. Not only is expressing gratitude a great way to get into the Christmas spirit, it can also help to strengthen your relationships for the upcoming year.
● Order your Christmas cards in advance. Christmas cards are a great way to connect with your customers, employees and vendors. Make sure to order them ahead of time and order more than you need (chances are, there will be more people that warrant a Christmas card than you think!). And if you order too many Christmas cards? Not to worry! Just tuck them into postal orders or shopping bags for a festive finish.
● Start planning your Christmas marketing ideas. A lot of consumers shop for Christmas gifts on Black Friday and Cyber Monday – so you'll want to get your Christmas marketing plan in place before those sales go live.
● Launch your Black Friday sale. Black Friday is one of the most important sales of the year. Make sure your messaging is clear and your customers know exactly what sales and deals to expect. If you're concerned about too many shoppers crowding your shop at once for in-store deals, you might consider using a time slot or appointment system to manage traffic flow.
● Participate in Small Business Saturday. This year, Small Business Saturday is Saturday, 26 November. If you want to capitalise on shoppers that are eager to spend their money on small businesses, consider rolling out a promotion that runs throughout this weekend.
● Launch your Cyber Monday sale. Black Friday is a big shopping day both in-store and online, but don't forget about Cyber Monday. Take advantage of this digital shopping day (which more and more retailers are also doing in-store deals for now that more people are shopping online anyway) and promote exclusive deals (like early shopping access!) for email subscribers and social media followers.
● Hang posters and banners. The sales don't end after Black Friday and Cyber Monday – so use posters and banners to announce upcoming sales, attract potential customers and get your existing customers excited for the festive deals to come.
Christmas marketing tips for December
December is the home stretch of the festive season. And while you'll want to continue marketing to your audience and making sure they continue to shop straight through New Year, as the Christmas shopping season winds down, take the opportunity to wind down with it. December offers a great opportunity to reflect on your successes in 2022, look ahead to the coming year and start thinking about how you're going to have an even more successful year in 2023.
● Record and analyse the results from your Black Friday and Cyber Monday sales. If you want to continue to improve your Black Friday and Cyber Monday sales each year, you need to look at what worked – and, just as importantly, what didn't. Go through your sales data and make note of which sales and promotions dominated and which fell flat. Then use those insights to inform your strategy for next year's festive season.
● Review shopper frequency. You want to make sure you have enough staff in 2023 to keep up with shopper demand – but you also don't want to over staff and have too many employees in the shop at any given time. So, look at your shopper traffic patterns. Were you quiet in the morning with long (socially distanced!) queues in the afternoon? Understanding your in-store foot traffic in 2022 will help you organise effective staff schedules for 2023. (And if things change and store traffic increases in 2023, you can always reevaluate and staff accordingly.)
● Consider a refresh. The new year offers new opportunities – and if you've been thinking about overhauling your branding (whether that's redesigning your logo or updating your website), now is a great time to do it.
Need help giving your brand a festive makeover? With 99designs by VistaPrint, you get access to designers (like okdesignstudio) that can help you with all your design and branding needs.
● Reflect on what to improve for next year. It doesn't matter how successful you are; there's always room for improvement. Did you order a high quantity of an item you thought would fly off the shelves – but then it didn't sell like expected? Did you run out of key items (like branded bags and packaging) halfway through the Christmas rush, leaving you scrambling come December? Now is the time to look at where you struggled, learn from it and develop a plan to improve in 2023.
● Prepare to hit the ground running in January. You want to start 2023 on the right foot – and that means taking the steps necessary to set yourself up for success in the new year. Whether it's stocking up on inventory or creating a calendar with key dates (like staff holidays and seasonal promotions), getting your ducks in a row now will help ensure that you're ready to roll when the festive season is over and 2023 is officially upon us.
The festive season is full of great opportunities to connect with your customers and drive sales – as long as you have the right Christmas marketing strategy. And now that you know exactly how to tackle your Christmas marketing tasks each month, you have everything you need to have a fantastic 2022 Christmas shopping season. So what are you waiting for? Get out there, get festive and get the (snow)ball rolling with your Christmas marketing!