Give the gift that says "I get you"
Whether for sipping, hanging or snuggling, make photo gifts that are undeniably theirs.
Make the most of every milestone
Celebrate your biggest moments with invites, party supplies and personalised gifts.
See what's trending
Skip to
Check out all the good stuff customers are scooping up – and be sure to add some to your list.
Fill their mailbox with joy
Skip to next section
Share happy news – and welcome guests to celebrate it – with personlised invites and announcements.
Explore more categories
Make every card, every room, every gathering extra special.
Celebrate life and the people in it with personalised gifts, cards and decor.
Life calls for a celebration. Many, in fact. Whether it's your kiddo's birthday or a wedding everyone's invited to, VistaPrint is here. We're here for the thrilling whirlwind that is party planning – with invites you can customise in minutes. For the moment you realise you need a present – with personalised gifts that score major points. For when the party's over, and you're reveling in the afterglow of a good time – cue our thank you cards.
But life is as much about the times in between, too. That's why you'll find daily wares and custom décor made to showcase the people and places you care about. Turn that group selfie into a framed print. Personalise a tote bag with your bestie's name (monogrammed gifts, anyone?). Or kick back with a mug featuring your baby niece – because there's no such thing as too many baby pics. No matter your style, there are so many ways to infuse joy into the everyday, all at budget-friendly prices. We wouldn't have it any other way.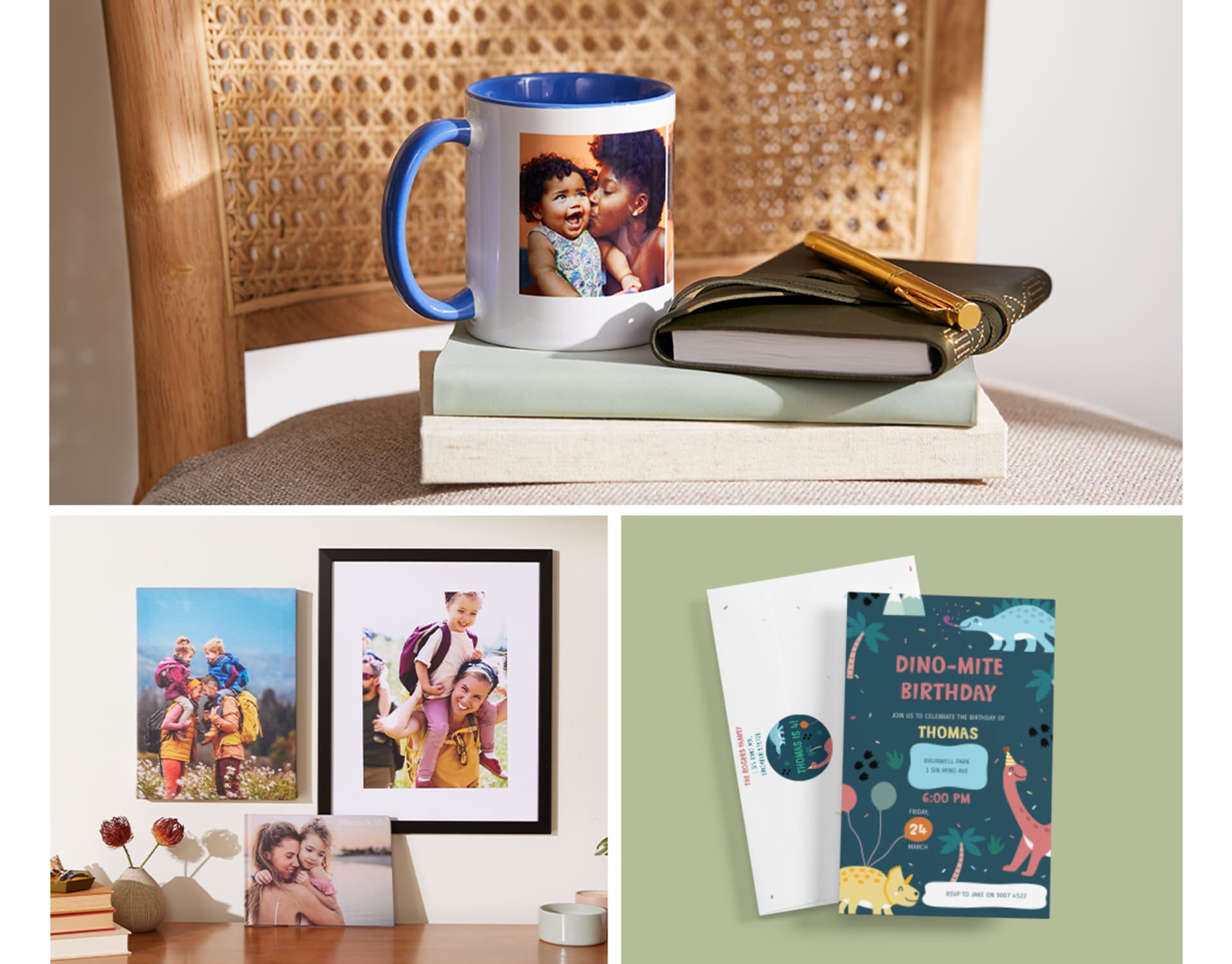 Frequently asked questions
Our photo gifts or wall art products make great presents for your special someone – no matter the occasion. One idea is to choose a canvas or framed print and customise it with a stunning picture of you and your sweetheart. This makes for a wonderful personalised anniversary gift, birthday surprise or just a way to show your love any day of the week.
Some of our most loved gifts that can be used on a daily basis include photo calendars, mugs, tote bags and canvas prints. Whether you're searching for a personalised Mother's Day gift, custom Father's Day gift or present for your SO, we have something for you. Plus, in our design studio, you'll be able to customise each gift to your liking with special messages and photos.
When thinking of memorial gifts, it helps to consider the personality and interests of the person being honoured, as well as the preferences of the bereaved family. Keepsakes like photo books that are filled with pictures and memories of the person and their friends and family can be a thoughtful and comforting gift for loved ones.
Yes. We have a variety of different custom packaging options. For example, our paper bags can be personalized with a message or design of your choice. And with both small and medium-sized options on offer, you can easily find the right fit for your type of gift.
---