Estimated reading time: 3 minutes

It's time to take your dining room outside… or level up your current outdoor space.
Offering outdoor dining should go beyond setting up some tables and chairs in your beer garden or on a neighbouring footpath. Take the opportunity to turn your eatery into an al fresco dining destination – all you need is the right outdoor dining supplies. Start with eye-catching signage, then add special menu offerings and a touch of curb appeal.
Vinyl banners can help decorate and define your outdoor dining area. Hang a few to create an on-brand barrier that encloses your seating area, or place one by your entry to attract customer attention from across the street. Make sure to design each banner with your restaurant's brand colours and logo.
2. Posters
Give customers information about safety protocols, menu specials and upcoming events with something highly visible…like a poster. If you're communicating safety information, go for straightforward visuals in attention-grabbing colours and concise messaging. If you're promoting something fun like an event or drink special, include vibrant photos of your most colourful dishes and Instagram-ready cocktails. Don't forget to add your logo to each poster design.
3. Sheet stickers
Beyond branding takeaway containers, sheet stickers can be used to accept touch-free payments or view digital menus… just add a QR code, then stick it on tables for easy scanning. QR codes have recently made a comeback, especially at restaurants, and with a digital menu, you'll be able to make updates quickly and easily. Plus, you won't have to spend time sanitising physical menus in between customers.
No need to worry about broken glass. Instead, serve drinks in recycled-paper cups, branded with a logo sticker or stamped with a fun tagline.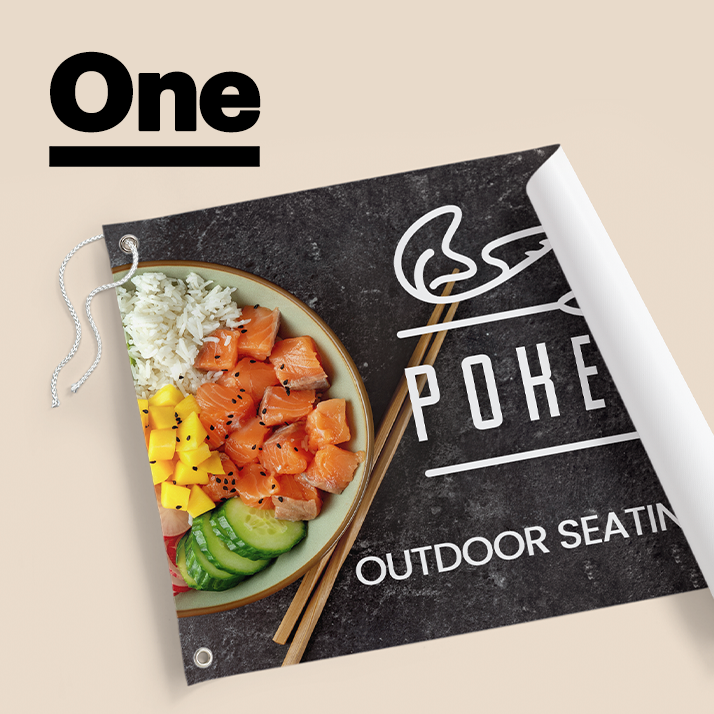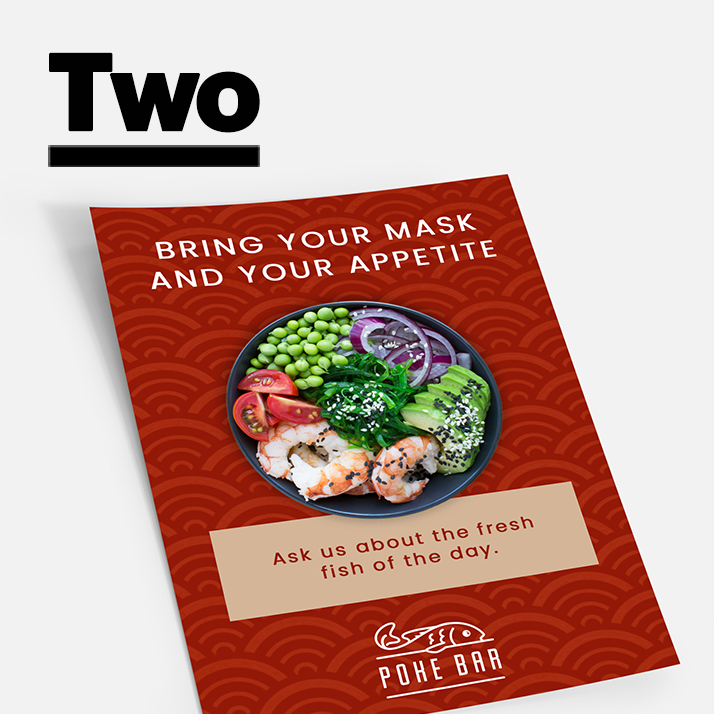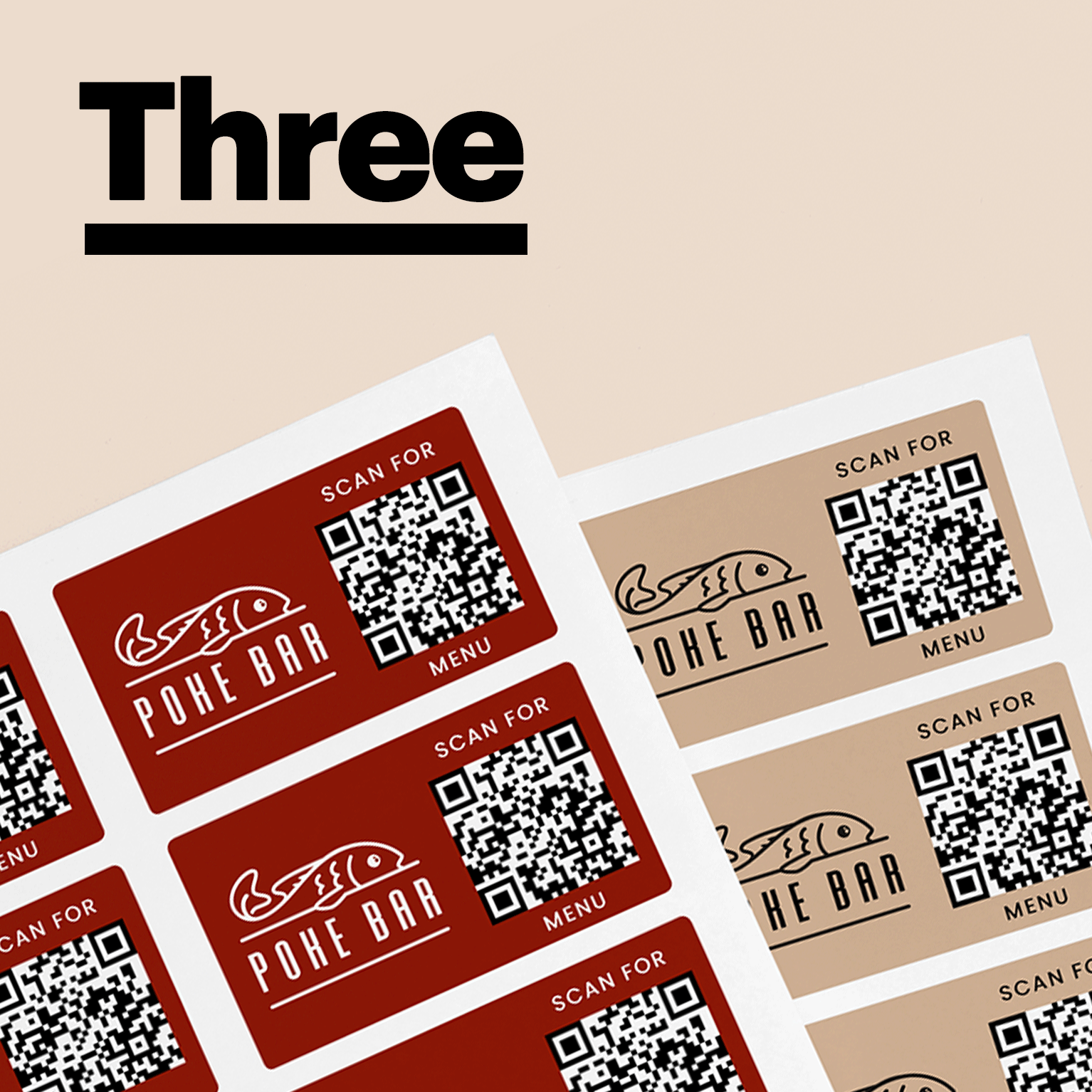 How to make the experience extra-memorable :
Set up a user-friendly reservation process or waitlist system.
The outdoor dining experience for your customers should be seamless and stress-free. A reservation platform or functional waitlist system is a great way to streamline seating and cut down on wait times. Let customers reserve a table online themselves, through your own website or a third-party platform. Or, if customers want to walk-in for a table, make that process easy, too. Give them a realistic estimate of their wait time and invite them to grab a drink at the bar while they wait (if space and permits allow you to). Offer to text them when their table is ready so they can explore the rest of the neighbourhood while they wait.
Streamline your outdoor dining service by creating a limited menu – you'll make things easier on your waitstaff and the kitchen if you pare back your offerings. Also consider serving dishes and drinks that are easy to transport and eat in an outdoor setting. (A bustling terrace probably isn't the best place to make guacamole tableside or serve a flaming cocktail.) Keep things simple and let customers enjoy the al fresco experience you've worked hard to create.
Offer exciting promotions & events.
Turn your terrace into a dining destination with special events and outdoor-only offerings. Here are some ideas to get you started:
● Hire a local musician or band to play live music one (or more!) nights a week.
● Attract customers with a dog-friendly happy hour or singles night.
● Draw in customers on slow nights with special offerings and promotions, like Tiki Drink Tuesday.
Create a pleasant dining atmosphere.
Your outdoor dining space should be an extension of your indoor dining room, especially in terms of ambiance. Use planter boxes to define your space, and decorate with fresh flowers and candles to help diners forget they're sitting on a path or next to a busy street.
One of the trickiest parts of running an outdoor eatery is navigating the weather…so, do your best to make sure you're prepared for everything. From heat lamps to awnings, be ready to weatherproof your area and keep customers comfortable.
Everything you need for an outdoor dining experience:
1. Outdoor banners
2. Posters
3. Sheet stickers
4. A reservation system
5. An outdoor-friendly menu
6. Weekly promotions
7. An events calendar
8. An appealing patio space