We're sorry, this item is temporarily out of stock. We're working hard to get it back for you. Check back soon.
Roll Labels
Temporarily out of stock
Take your branding to the next level with professional stickers designed for high-volume use. Explore fully customisable design templates and an easy design upload.
See Details

100% satisfaction guaranteed


Match your look across lots of packaging and products.
15 size options
4 shape options
Quantities from 100 to 5000
Best for higher quantities
Looking for a stress-free way to create professional consistency on bags, boxes, jars, bottles and more? Our roll labels are a great option for businesses working with higher-volume inventories. You can choose from an assortment of materials, including options for dry goods or liquids. And with your labels arriving coiled around a roll, they're convenient to use – and to store within smaller spaces.
Ready to create? Explore our assortment of fully customisable design options. Once you've found a favourite, make it yours by adding all your custom touches. We'll take care of the rest, professionally printing your design onto the material of your choice. Your roll labels will arrive ready looking great and ready to work.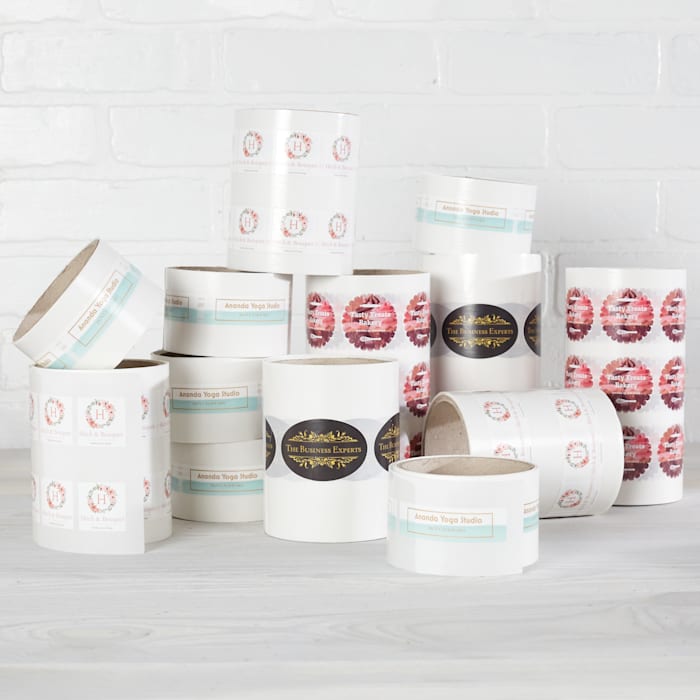 Frequently Asked Questions
Different roll label materials work better for different types of projects.
Paper roll labels are great for indoor use, when the sticker won't come in contact with liquid. We consider this our traditional, budget-friendly roll label sticker option.
Plastic custom roll labels are made of polypropylene, which means they are oil- and water-resistant and a more durable option for indoor and outdoor use. If you're labeling products that contain (or are exposed to) oil, lubricants or cold temperatures, this is a good choice for you. (Please note that our plastic roll labels are not made of vinyl.)
Our paper and white plastic roll labels are printed on white backgrounds – but that doesn't mean you're limited in colour options and designs! Our full-colour printing means that you can print on as much (or as little) of your sticker as you'd like. And with our transparent roll labels, any surface area without printing will be clear.
Unfortunately, we can't ship samples before you purchase – at least, not right now.
Yes. If you plan to write on your roll labels, our white paper option is easiest to write on with a pencil or pen. For our plastic roll labels, you'll want to make sure to use a permanent marker.
Paper labels are a great, durable option for indoor use – if your sticker won't come in contact with liquid, you'll be in great shape. If you intend to use your custom stickers on products that contain (or are exposed to) oil, lubricants or cold temperatures, our plastic labels are both oil- and water-resistant.
Product Specs & Templates
Our professional designers can help create the look you want.

Printed Product Design